Nobody was asking the right questions. It seemed as though everything I was hearing around me was at odds with what I could see.


I worked for a short time as an office clerk in a local bus company workshop, spending the days making tea and writing lists. I bought cigarettes every week and went 10-pin bowling a few times. I thought about art, sculpture, travel and romance, taking the train into London to visit exhibitions of Van Gogh, Magritte, and Henry Moore. I sketched and tried my hand at writing fiction, but quickly realised that my sense of the unreal was hampered by the literalness of my thinking.
My brother and sister had finished university and left home, so it was just the vicar's daughter and me, living in a small village with the nearest town ten miles away. While not anti-social I lacked networking skills, and words. The lack of opportunity to observe negotiation skills between two adults and to model my own language from that had left a deficit: I could follow instructions if they were direct, but not if they were implied; I might question an idea but could not challenge a context.
I talked to people when I could, though I quickly found I had to avoid the old perverts in the railway station café. Instead, I read widely, taking in all of George Orwell's essays, D.H. Lawrence's short stories, Henry Miller, Dante, Ancient Chinese poetry, Rabelais, Cervantes, and the like. I looked at primers for Russian and Arabic, and curious about the script I started practising how to write from right to left.
The new freedom also meant music, and music meant festivals. The first was the National Jazz and Blues at Kempton Park racecourse in 1968 where I saw Savoy Brown, Tramline, and Spencer Davies, but missed everybody else because I'd arrived late and had to leave early. However, at the Bath Festival in 1969 I got to see everyone from Colosseum to The Nice, and Led Zeppelin to John Mayall.
The following year my mother moved to the wilderness of mid Devon. We had been half an hour from the nearest city but here that distance was doubled. Mother was in her element; I bought guns, debating with myself whether suicide or murder could prove more satisfying.
While I had been taught that photography was not an 'art' it quickly became evident that this was an overly romantic view, and in any case what made the Sunday magazine supplements so interesting in the 1960s was the emphasis given to photography in all its varieties of content and style. If I did not have access to a camera I could still visualise the shots that would be valid for me. I could train my eye.
The Hit Toy Spy camera I had received at Christmas when I was around ten didn't really count as a functioning camera. The first roll proved just how bad it was and the little two inch camera from Hong Kong was never used again. I was occasionally able to borrow one and in 1965 I had taken a Kodak Brownie with me on a visit to Ireland.
Reading about Paul Klee led me to think seriously about visiting North Africa, and when I was sixteen I bought a second hand Kowa 35mm single lens reflex with two auxiliary lenses. Had I understood the quality of these things I wouldn't have touched it, but a friend of my mother wanted to unload a camera he didn't care for. A brand new Pentax Spotmatic would have cost three times as much as the Kowa, but there's little doubt it would have lasted a lot longer.
In the summer of 1969 I took trains and went to Marseilles. I slept on the quayside among the tramps under the old fortress. I took the ferry to Tunis and stayed a week, living on doughnuts, grapes, and banana milkshakes. I walked around the old streets trying to make a mental record rather than use up the precious film too quickly. It was a false economy as Tunis was on the verge of change. At that time perhaps 90% of the men on the streets wore a burnous. I watched squatting labourers chiselling the stone slabs of a sidewalk that had already been laid.
On my return I spent a week in Paris, staying with the family of a friend I'd met on the boat back to Marseilles. One of Claude's anarchist friends brought round some live ammunition he had picked up on the streets the summer before, a teargas canister and a grenade. We spent a lot of the time walking around the city centre so there was certainly plenty of opportunity for taking photographs, but I had been advised to carry the more expensive slide film and by this point had none left.
My interest in photography was still hampered by a lack of basic knowledge and skill, (leading to occasional disasters such as using household bleach in the development of a roll of transparencies) and, most obviously, the money to cover what could be an expensive hobby. Unexpected results, like an accidental roll of double exposures, kept me interested even though the images were not printable.
I spent another year in Devon. The big music festival in Shepton Mallet in 1970 offered some respite. I spent a couple of days hanging around in Bath and then went down with friends to the festival site. There were big names playing, from Jefferson Airplane to The Byrds, from Frank Zappa to Dr John, and I soaked up all the sounds – apart from Pink Floyd, as I somehow managed to fall asleep as their set began and only woke up after they had finished.
Learning to drive was not too difficult, but resisting the odd beer in a country pub was. I had already tried Moroccan cannabis and a wake party in Salisbury following the death of Jimi Hendrix was an opportunity to take some LSD. A couple of car crashes later, I left Devon and moved to the west coast of Ireland. It was a timely move; almost immediately, a cousin of mine moved in to live with my mother.
I thought life on a communal farm would provide me with impetus and direction. Dorinish Island belonged to ex-Beatle John Lennon and had been given on loan to Sid Rawle, a self-styled hippie leader, to set up a smallholding. We put up permanent structures to live in, to the same design as the ex-army bell tents we slept in. Cooking was done on a two ring gas canteen that Sid had 'liberated' at the Isle of White Festival the previous year. Money for supplies came from picking winkles on the beaches at low tide and selling them at £3 for a hundredweight sack. Tommy Gibbons, the Clew Bay pilot who lived on the next island, would come over in his boat to pick us up whenever we raised our bedsheet flag on the hillside.
The work made me stronger and the landscape moved me. People came and went, mostly teenagers who had fallen out with their parents. We screwed around, put up with the cold winds, and marvelled at the daily rainbows in the sky. Boiled potatoes, carrots, and onions, with perhaps a tin of corned beef thrown in, became the norm, but if we were cut off by storms for too long we'd go and pick oysters instead. We'd listen intently as the shipping forecast moved up from Shannon to Rockall half anticipating, "Southwest 7 to severe gale 9, occasionally storm 10 later". There were occasional treats, of course. One of the guys kept back a single egg from a shopping trip to Westport and on my 18th birthday I was presented with a boiled egg in the morning.
But the silence was absolute, and a few weeks after my eighteenth I left and hitch-hiked to the ferry in Dublin, and then from Liverpool to London. Walking through a small village in County Roscommon a small boy stopped me and asked, "Are you George Best?" I was momentarily tempted to lie.
Couch surfing and living in squats offered many opportunities for getting high while immersed in the very best music. Cannabis, opium, amphetamines, barbiturates, LSD, and mescaline were easy to find, or on a bad weekend there was sherry and cider. There were festivals in the summer and music venues through the winter but rarely enough cash in the pocket to get around town. I got to know London by walking long distances.
My camera had jammed and sat in a drawer, and all the while I was doing roadie work up close to Traffic, Genesis, Graham Bond, Rick Wakeman, and others. I saw Roy Harper performing a second time, and the light and my angle of view from the stage wings left me as much engaged with the sight as with the sound.
Glastonbury Festival in 1971 proved to be the last festival I enjoyed for many years. It was small, perhaps with just 9000 people present, but big enough that I ran into friends from Dorinish Island and from Salisbury. I went with a girlfriend, Christine, and a couple of London pals, Denny and Nick, and we took up residence on a patch of grass in front of the pyramid stage. The place was full of characters. I met up with Sid Rawle briefly and drove one of the farm vans to get supplies for the kitchens. I was high as a kite on LSD every day but remember the music vividly, Terry Reid, Melanie, Gong, Fairport Convention, Traffic, Family, and more.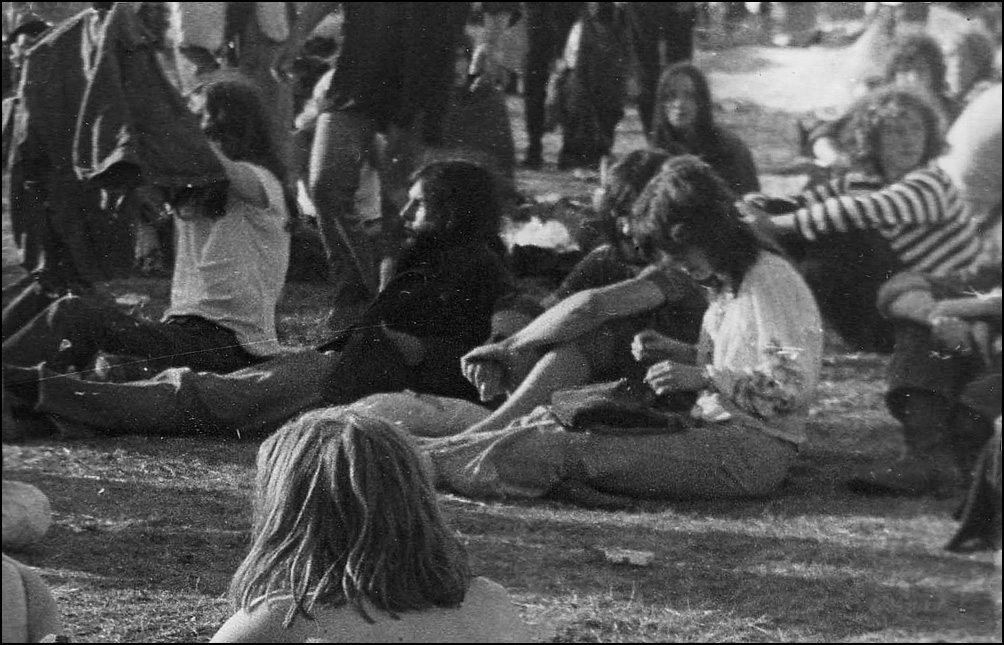 Glastonbury Festival
I spotted the photo after researching the ukrockfestivals website. It was a visceral sensation of instant recognition, not just of my own face in the image but of the top I was wearing. A friend gave me the black and white striped long sleeve top to wear at the festival and it had irritated me from the first moment. The sleeves were too short and they flared at the ends, leaving my wrists feeling cold.
I never wore it again, but because of the top I was able to identify myself dancing in front of the pyramid stage in the Nicolas Roeg film of the festival, Glastonbury Fayre. I bob in and out of view during the Fairport Convention set.
It would probably have been easier to find full time work in London if I had really wanted to, or if I had at least known what I could do in such a busy place, but few of the people I met had regular jobs. I sold paintings door to door, washed pots in restaurants, or cleaned apartments and offices – just enough to get by. Osman, a Turkish painter who lived next door just off Primrose Hill, had the habit of offering me a joint any time I said I was going out to look for work.
Just occasionally, some scam or other would provide enough money to buy food, clothes, or even a plane ticket, but perhaps what was most noticeable through the fog was the inexorable decline in my social, intellectual, financial and physical health. When you look in the mirror and fail to recognise yourself, the internal wiring may be starting to shake loose. I'd made it east to Beirut and as far west as Chicago for a couple of months, but there were too many failures for living in London to be sustainable.
Over the next two years I lived through part-time and short term jobs, spending as much time out of work as in. There was some comfort to be gained from hashish and LSD, or amphetamines and the occasional girlfriend. If I wasn't working I was usually reading, and primarily American authors. The works of William Burroughs led to Tim Leary, Leary led to Ken Kesey, Kesey led to Tom Wolfe, and Wolfe led to Marshall McLuhan.
Driving around with a friend one night I was picked up by the Police and charged with possession of controlled substances. There were court appearances, followed by a fine for each class of drug. It was sufficient provocation for me to think carefully about the risk of ending up in prison, or dead. There had to be an alternative.
Glastonbury Festival
, Copyright ©1971, the Estate of Geoffrey Bowler.